This week?
The living room!
What great motivation to tidy things up! (It really needed it, and I'm not showing "before" pictures. Definitely the "lived in" look with books and laundry and...)
One tall bookcase,
one of many in our home,
is organized by genre.
Antique books on top,
then nature guides / easy science books,
then fiction chapter books,
then Bible & character building,
and finally picture books at the bottom.
(Our other bookcases throughout the house
hold other kinds
of books.)
On the floor, I keep a bin for books
that are too big to be shelved,
or that need to be put away.
I found the automated kitty cat
at a yard sale for 50 cents.
Purrrr....
A large basket holds
library books
and current selections.
I just finished reading
A Bear Called Paddington
with my youngest daughter.
A little reminder, not yet a reality.
The color scheme of the room is
burgundy (couch, curtains, area rug, etc.)
and light yellow (walls)
with accents of green and other dark colors.
All of our wood furniture is fairly dark, too.

The couches have sturdy microfiber fabric
with attached back cushions,
which I really prefer since it keeps them in place.
The covers of the seat cushions
can be removed for washing.
I lucked out at Walmart and found four pillows
that were an exact match on the couch fabric.
When they eventually got lumpy from washing,
I took out the original stuffing and
replaced it
with four identical (new) throw pillows from Goodwill.
At $1.99 each, this was much cheaper than buying
pillow forms.
The quilt is stored in a large basket
when it's not being used on the couch.
I found the area rug for free
at someone's curb.
All I needed to do was clean it!
Our gray carpet has a lot of
permanent stains on it.
Next time, I'll go for easy-to-clean ceramic tile!
This bin is
tucked in a corner between the couch
and an end table that holds one of our several fish tanks.
Blocks for my grandsons (that we've had for 20 years!)
are the only toys regularly kept in the living room.
My own kids store their toys in their bedrooms
(though they do migrate out here!),
and there are more baby & toddler toys
for my grandsons in a bin in the storage room.
Our piano books are stacked up or
tucked into a wooden box.
My daughter keeps assorted sheet music in a
binder.
When my parents bought this piano 45 years ago,
the bench lid flipped up for storage.
Now we use
this padded bench that my husband found at a thrift shop.
The chair, one of my favorites, came from Goodwill last year.
It's amazing how we found our room colors for both.
Chair fabric
Piano bench padding
Our "entertainment center" is an
antique cabinet from my husband's grandparents.
I store family photo albums down below.
The small basket holds miscellaneous items,
like crayons and hairbands,
that I find lying around the room.
We have a video closet in the
adjacent front hallway to the left,
but people have been more inclined
to pile DVD's on the cabinet
rather than take a few steps
put things away.
Plus, the closet shelves are so big that people
just throw
stuff in there. It's always a huge mess.
So
I bought the black wire DVD rack
(to the left of the cabinet) for $7 today
at H
abitat for Humanity's
ReStore thrift store.
It took me quite a while to match stray DVD's to their cases.
I still have a bunch of both discs and cases left unmatched,
but
I'm hoping my new rack helps keep things tidy!
Again, one shelf for animated movies,
one for live action movies,
one for short kid stuff,
one for science stuff, and so forth.
(Our VHS videos are still in the closet,
but our VCR is broken anyway.)
You can also see to the right that our living room
is connected to our computer room
in a large L
with one step up.
When we first moved into the house 20 years ago,
there were two iron railings extending out three feet
from the walls into the opening
between the rooms.
With our active kids, we had many accidents with those!
When we replaced the carpet, we yanked them out.

Well, that's that with reorganizing the living room today!
My living room is also featured in this earlier post: Maniac Cleaning Day
How do you organize your living room or family room? Take some pictures and link right up to the New Year's Organizing Revolution!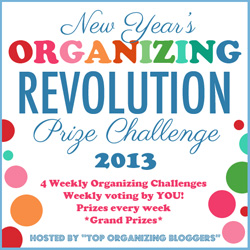 My other organizing challenge posts are here:
This post will also be linked at: